Transforming steel tube is our business!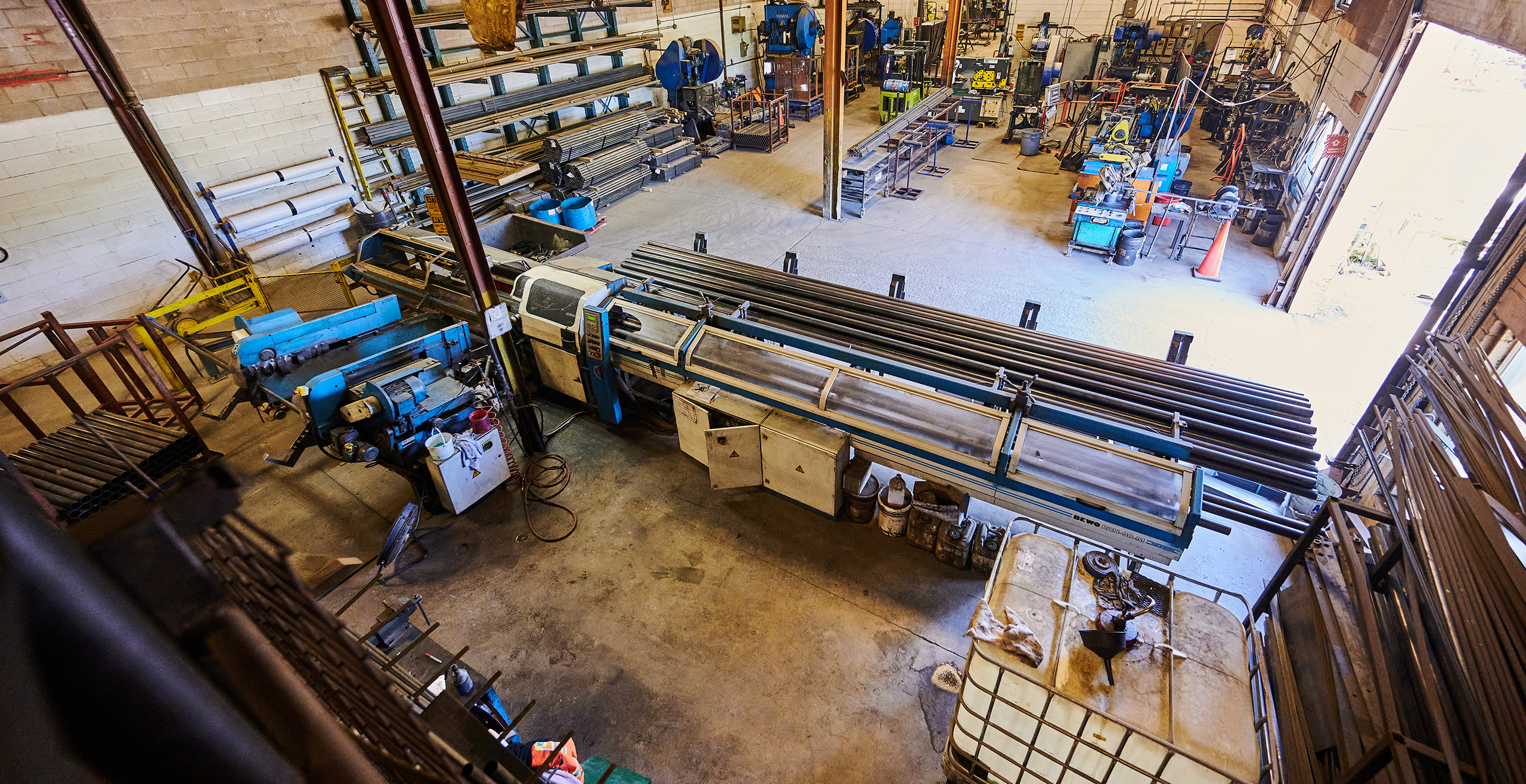 Transforming steel tubing is foundational to many industrial and commercial projects. Saw cutting, laser cutting, computer numerical control (CNC) bending, welding, assembly, and powder coating are some of the processes that comprise structural steel projects. These processes can be used to increase efficiency, reliability, and effectiveness in the steel manufacturing industry.
What is steel tube bending?
Bending, as the name implies, consists of passing steel pipe through a machine designed to bend it into a curved shape. In the past, bending machinery could only process round tubes. Today, it can bend tubes of all shapes. An originally straight tube can be bent to essentially any desired angle using computer assisted design and the latest electric or hydraulic benders.
Bending technologies used at QTG
We exclusively use CNC benders – a state-of-the-art technology that ensures unparalleled productivity and precision. This enables us to bend steel tubes, sometimes over several meters long, within a fraction of a second. We use this technology to meet our various project requirements as efficiently as possible. This method also guarantees maximum part repeatability and incomparable geometric precision, ensuring that the projects we carry out are of high aesthetic quality and structural strength.
Steel tube welding
QTG uses the latest in MIG/GMAW welding technology. This method utilises a continuous feed of charged metal wire to heat, penetrate, and fuse the metals. Shielding gases are used to protect the weld puddle, a small pool of molten metal, from contamination. This allows for stronger, more precise, and more efficient welds.
QTG guarantees our welds' quality and safety, thanks to our CWB certification. The Canadian Welding Association administers the Canadian national welding standards incorporated into the National Building Code of Canada by issuing CWB certifications. In order to obtain one, our qualified welders must adhere to the welding procedures. We also hire certified visual inspectors in destructive and non-destructive testing as supervisors. We therefore guarantee the highest quality and ensure the complete safety of your structures.
Steel tube cutting
At QTG, we use two methods to cut steel: saw cutting and laser cutting. The first technique enables a fast, precise and customized cut for both small and large-scale projects.
Laser cutting, on the other hand, increases project productivity and quality. Even more precise than saw cutting, it allows us to design non-standard cuts and new assemblies compared to traditional techniques.
Combined with our state-of-the-art welding methods, our cutting services can be used for all types of projects, regardless of the industry.
Why steel?
Its very high strength-to-weight ratio allows us to produce much stronger, more durable and versatile structures. Steel's versatility gives you the freedom to dream bigger, innovate, and stray from the beaten path. We only use top-quality Canadian steel for each of our projects, guaranteeing their high quality.
Whether it is to protect workers on a construction site, or to fence in cattle on a farm, steel structures ensure increased safety. Steel does not burn, nor does it increase the combustible load that causes fire to spread, so your structures remain intact, even when worst-case scenarios occur.
Steel structures offer a significant competitive advantage over other materials. Lastly, steel is one of the most recycled materials on the planet. Its life-cycle and performance characteristics make it a sustainable option.
Applications and sectors that benefit from steel processing
Many companies use manufactured steel tubes. Subcontracting the manufacture of your products offers numerous advantages. Whether it is for farm fencing, wire carriers, gangways, railings, or doors and panels for freight elevators, QTG can meet all your steel transformation needs and allow you to focus on customer satisfaction.
Call on us for your projects, whatever they may be. Our expert teams and machinery will allow you to produce your structures at a fraction of the time and cost.